I hope you love the products I recommend! Just so you know, I may collect a share of sales or other compensation from the links on this page. There is no cost to you. Thank you if you use my links, I really appreciate it!
Nothing on the road beats a black car on a sunny day. But washing it and keeping it clean is a total pain in the you-know-what. Here I talk about the best car wax for black cars on the market today. Waxing is one of the most effective steps of detailing cars.
Only a black car owner can know the highs and lows of owning such a high-maintenance car. But we know the hard work of keeping it clean is worth the effort in the end.
I have researched all sorts of car waxes and polishes over the years. I test new waxes as they become available and my results will help you to find the best wax for your black car.
1. Turtle Wax Graphene Spray Wax.
Turtle Wax Hybrid Solutions Pro Flex Wax, Graphene Spray Wax. is a spray wax that gives a stunning shine to any black vehicle. It gives great results considering its price. Very little buffing is required! It takes minutes to add a great shine when you're in a rush.
This shows what a modern wax is capable of. You'll instantly notice the added shine and gloss. You can spray it on plastic and glass too.
Graphene is the key ingredient in this wax. It's designed to add protection which is so important for black cars. Black cars show scratches more than any other color and anything we can do to keep this to a minimum is key to making our cars look better and making our lives easier.
The word "FLEX" is also key here. You can apply it to a dry fully prepped car or to a wet car after washing. This wet application method is such a massive time saver. You simply spray it on your wet car after washing and wipe or rinse it off.
It contains polymers which are chemicals that bond to paint. You'll find that your car gets shinier each time as you add layers after each weekly wash.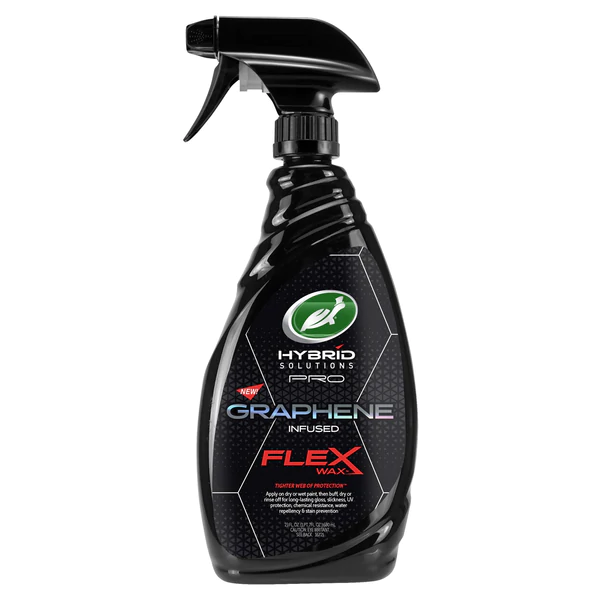 Pros
Outstanding shine.
Fantastic water beading.
Long-lasting.
Flexible application methods.
Minimal preparation is needed.
Quick and easy to apply.
Can be used on plastic, glass, and wheels as well as paint.
Can be applied on top of other waxes or ceramic coatings
Cons
Doesn't hide swirls and scratches on older black cars (see number 3 below).
Best results require 12 hours to cure.
Title
Turtle Wax Graphene Spray Wax.
Chemical Guys Black Car Care Kit
Thumbnail
Title
Turtle Wax Graphene Spray Wax.
Thumbnail
Thumbnail
Title
Chemical Guys Black Car Care Kit
Thumbnail
2. P21S Carnauba Wax
P21S Carnauba Wax is my favorite paste wax on the market for black cars.
It's the kind of wax I apply after I have spent a whole weekend washing claying and polishing my car. And I want that wow factor.
It's a wax for those of us who love detailing our black cars. And how could you not love a black car.
P21S is a paste wax so it might take a little longer to apply than some other liquid or paste waxes but I promise you it won't let you down.
Once your waxed car gets dirty you should use a pH neutral car shampoo like Meguiars Gold Class so you don't wash it off. It lasts longer than most other paste waxes and you'll still have water beading after many washes.
Some paste waxes leave residue on black paint that's hard to remove. This product does not do that. And that's one of the reasons I recommend it above other past waxes. Easy on and off.
It's an oily wax which makes it quicker to apply than some old-school turtle wax style paste waxes. You can buff it off immediately after application which is another bonus. Plus there is no dusting when you buff.
Best results with P21S are achieved on a car that is relatively new (less than 5 years old) and already has really good paint. It's also great for those of us who polish and compound our cars from time to time.
P21S Carnauba Wax enhances shine and gloss and helps to hide light swirls. Especially on dark solid color cars.
Applying wax the wrong way can result in scratches. To safely wax your car and get the best results please check out my guide to waxing your black car by hand.
Pros
Stunning deep shine.
Easy to apply and buff off by hand.
No dusting effect.
Comes with a high-quality applicator pad.
No cure time, immediate buff off.
Small amount of wax goes a long way. This tub will last years.
Can survive a few washes when using a ph neutral car wash soap.
Reminds you why you love black cars.
Cons
Costs more than many waxes.
Paste wax takes longer to apply than spray waxes.
3. Chemical Guys Black Car Care Kit
That shine you can get from a black car is the reason we put ourselves through all the pain of owning a black car. Your car might need some work to get the shine back.
But many people don't use the right products and tools when waxing their cars so they dont get great results. That's why I recommend the Chemical Guys Black Car Care Kit to people.
Here's What's in the Chemical Guys Black Car Care Kit…
Hybrid V7 Optical Select High Suds Car Wash Soap (16 oz) – A superb car shampoo for getting rid of dirt and grime without scratching. pH Balanced. A car washed with a shampoo like this will have fewer scratches due to its lubricity.
Butter Wet Wax (16 oz) – One of the very best car waxes in the world. Super easy to apply carnauba-based wax for a deep wet-look shine that will cause your jaw to drop. Can even protect your car against sun damage.
Black Light Hybrid Radiant Finish (16 oz) – A fully synthetic paint sealant and glaze designed to give long lasting protection, apply after washing using the supplied applicator pad. Its a gloss enhancer, glaze and sealant in one. Note that this is not a polish or wax. Its a pre-wax glaze that is applied before waxing to give a much deeper shine. Has a filling effect that hides light swirls and scratches.
Hybrid V7 Optical Select High Gloss Spray Sealant & Quick Detailer (16 oz) – A Quick Detailer spray for removing dust between washes. Also removes bird droppings and adds shine and protection all over.
Hex-Logic Finishing Hand Applicator Pad (TWO PACK), Black (3 x 6 x 1 Inch) – Spread glaze, sealant, or wax without a machine. Fits in small areas like doorjambs, handles, and mirrors.
Monster Edgeless Microfiber Towels (THREE PACK), Black 16″ x 16″ – Premium soft towel for general detailing jobs all over any vehicle. These are a must have.
Pros
Very high quality products in one pack.
Fills in and hides light swirls and scratches.
Doesn't stain plastic like many other waxes once removed on time.
Protects the paint from UV oxidization damage
Incredible reviews on Amazon.
Cons

Takes a lot more time to use all of the products.
4. Autoglym Super Resin Polish
Got scratches or faded paint? The best polish for black cars is Super Resin Polish by Autoglym. It's both a polish and glaze so it will remove some light scratches and oxidation and will also fill in scratches to boost gloss and depth.
You can apply a wax on top of it too but it's really good on its own. It's used a lot by used car dealers to make a car look good before sale.
Super Resin Polish is not a pure polish as it contains glaze to fill in scratches. If you want a purely dedicated polish I wholeheartedly recommend Sonax Perfect Finish. This type of polish works best when applied with a polishing machine.
READ MORE: Best Wax for Black Cars with Scratches
Pros
Removes and fills in light swirls & scratches
Makes older cars look almost new.
Cons
Can leave white residue on plastic trim
Best results when applied with a Polishing Machine
5. Meguiars Hybrid Ceramic Liquid Wax
A product that I love is Meguiars Hybrid Ceramic Liquid Wax. Its the best Liquid Ceramic Wax for Black Cars. It contains Sio2 which means it can last a lot longer on your car and survive longer in bad weather.
It's incredibly quick and easy to apply and can even go on plastic bumpers without staining. Some waxes stain plastic while this protects it from sun and weather damage.
Because you don't have to be too careful around plastic and rubber trim, it saves you a lot of time and you can get around your car in a few minutes.
Meguairs is such a trusted brand in auto detailing. And who doesn't want quality products from a brand they can trust?
6. Turtle Wax Hybrid Solutions Ceramic Graphene Paste Wax
Turtle Wax slips under the radar for a lot of people because they might mistakenly think it's a cheap brand. But this new product has been getting rave reviews.
Some older Turtle Wax paste wax products could be difficult to apply. If you left them 0n the surface for too long they would take a lot of work to buff off.
But Turtle Wax Hybrid Solutions Ceramic Graphene Paste Wax is sublime. And the water beading is off the charts.
7. Chemical Guys Glossworkz Auto Wash
OK, so its not wax but another underappreciated way to boost your shine is with a shampoo that has a gloss enhancer in it. For years I used Meguiars Wash and Wax but it didn't really add much shine.
The new king is Chemical Guys Glossworkz Auto Wash. Its the best Wash & Wax Shampoo for Black Cars. This stuff actually works and I'm not sure why it doesn't get more attention. Just washing your car with this in your bucket will pleasantly surprise you.
It's probably the fastest way to make a black car look like it was just detailed.
Read More : Whats the fastest way to wash your car?
Are these really waxes?
Companies such as Turtle Wax, Mothers, Meguiars, Chemical Guys, Griot's Garage, Liquid Glass, Car Guys, Adam's and Collinite make products that are designed to hide swirls and scratches and make our black cars even more beautiful.
Although car wax has existed for a long, long time, modern waxes are different. Modern products don't just deliver a temporary shine that lasts a week. They can deliver a shine that last six months. Even on cars that are washed every weekend. Older waxes turned yellow in the sun and had to be stripped off and reapplied almost weekly. Those days are long gone.
Carnauba waxes are still available of course. And they have also improved over time. But all the products I recommend here are longer lasting than carnauba waxes of old. Also carnauba waxes can cause plastics to whiten a little. Having said that I always try to keep products away from plastic unless it says it on the label that it's safe to use in plastic.
These new state of the art products can also make your car easier to wash. And this is important to black car owners because we need to wash our cars more often then everyone else. The chemicals used in modern waxes bond and harden with your paint and dirt does not stick that well so you can get most of it off with a foam cannon and pressure washer.
Scratches and swirls are the enemies of all black car owners. The secret is to touch your car as little as possible. If 97% of the dirt can be removed with a foam cannon and pressure washer then your cars shine will last years longer. To remove the final 3% of dirt use the two-bucket method. Read my detailed blog post on how to wash a black car without scratching it.
The products on the list are not just waxes. In fact, some don't contain any wax. They are mostly hybrid products that might contain sealant, glaze, polish or wax or any combination of the four.
These are all products that I have used and that have worked really well. I have not included products that I felt didn't work well for me.
These products are all easy to apply by hand and can also be applied with a polisher.
Prepare the surface. To help the wax to bond properly with your paint and to make the shine pop even more you need to prepare the surface properly. Remove ALL dirt using a proper strip wash shampoo. This will help to remove old wax too. Next clay your car if the surface feels rough to the touch. This is an easier step than most people think. Read my blog post to learn how to safely clay a black car without scratching it. The clay will remove bonded contaminants form the paint.
Want to know more? Read my detailed post on how to wax a black car.
Conclusion
Waxing a car not only makes it look awesome, but it can also give protection from scratches and makes it easier to wash.