7 Top Waxes for Black Cars (2023)
Nothing on the road beats a black car on a sunny day. But washing it and keeping it clean is a total pain in the you-know-what. And what if your black car has scratches you want to remove or cover? There are great waxes for that too.
Only a black car owner can know the highs and lows of owning such a high-maintenance car. But we know the hard work of keeping it clean is worth the effort in the end.
I have researched all sorts of car waxes and polishes over the years. Of the 30 or so waxes I have used over the years, these are the ones that have given the best results on black paint. I test new waxes as they become available and my results will help you to find the best wax for your black car.
1. Chemical Guys Butter Wet Wax (Best for Shine)
Butter Wet Wax This ticks all the boxes for me. It's probably the only wax I won't be without. As soon as I run out I buy some more. It gives me the deep, rich gloss I bought my black car for in the first place. But another reason I rate it as the best wax is that it's so easy to apply. It goes on so easily and can be buffed off seconds later with a soft microfibre cloth. Some waxes are hard to buff but not this.
Chemical Guys have a ton of waxes on the market. But Butter Wet Wax is their best black car wax.
If you like looking back at your car when you walk away from it, Butter Wet Wax is the wax for you.
It might not have some of the latest ceramic or graphene chemicals that make waxes last longer. But it has genuine carnauba wax which is sadly lacking in modern waxes these days.
The wax is applied to a freshly washed and dried car with a microfibre applicator sponge and buffed off with a microfiber buffing towel.
The shine won't last very long but that's not the point of this wax. It's designed to make your car look awesome for a sunny summer weekend. And that's exactly when I use it. Apply a quick detailer after future washes to top up the shine and prolong its life.
Butter Wet Wax delivers outstanding deep shine on dark cars. It's truly a wax that can make your jaw drop.
Amazon Link -> Chemical Guys Butter Wet Wax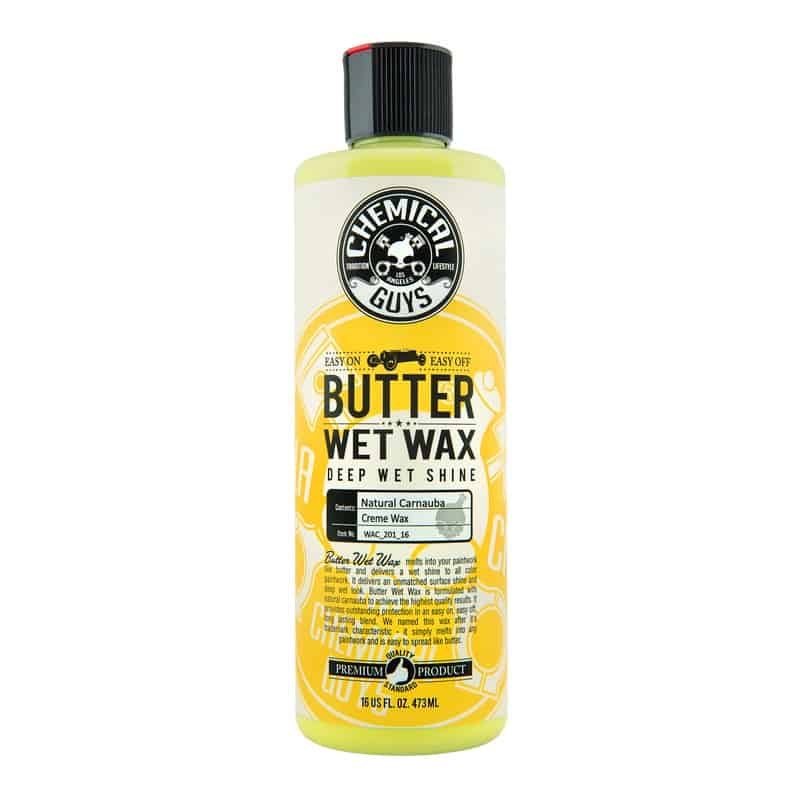 Butter Wet Wax Pros
Superb deep gloss.
Quick and easy to apply.
Contains genuine carnauba wax.
Inexpensive for what it delivers.
Can be applied on top of other waxes or ceramic coatings
Butter Wet Wax Cons
Only lasts around a month.
Average water beading effect.
Shouldn't be applied in direct sunlight.
Title
Chemical Guys Butter Wet Wax.
Thumbnail
Type
All in One Wax and Polish
Title
Chemical Guys Butter Wet Wax.
Thumbnail
Thumbnail
Type
All in One Wax and Polish
Thumbnail
2. Meguiar's 3-in-1 Wax (Best for Scratches)
If you have a black car that hasn't seen some love for a year or two, I have the perfect wax for you. It's no secret that I'm a Meguiars fan. I try pretty much everything they make. But 3 in 1 is a wax that I missed because it's really aimed at people who haven't detailed their car for a while. And I detail my car a lot. (probably too much).
The three things it can do are compound, polish, and wax. The compound removes scratches and old wax. Polish refines the finish and adds shine. Wax adds gloss and protection.
When I finally got a chance to use it on a black car that hasn't been detailed for a few years I was blown away. Older cars typically need multi-stage detailing. Just using wax on its own won't do much good if the car has oxidation or swirl marks. So compound and polish should be used to clean and refine the paint before waxing it. This is a fun job for me but I know not everyone loves to spend a whole weekend detailing their car.
3 in 1 contains compound and polish which makes it a slightly abrasive product. Working it in with a microfibre sponge or foam pad removes oxidation that is usually left behind with other pure waxes. Allow the product to dry and simply buff it off. But don't use too much product because a thick coat is a lot harder to buff.
Once buffed the wax is revealed. It delivers an excellent shine that's a massive difference from the condition the pant was in before.
Meguiar's Link -> Meguiars 3 in 1 Wax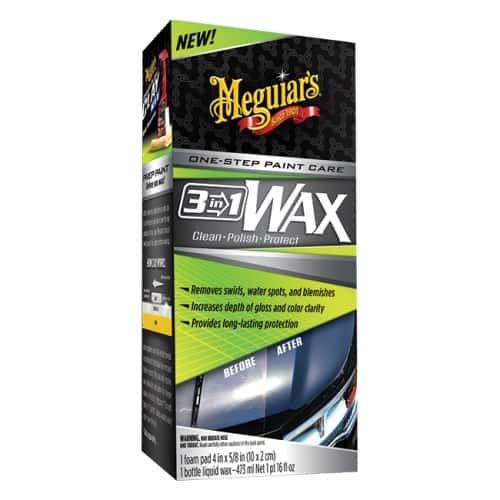 Pros
Can restore faded paint.
Adds tones of gloss.
Can be applied by hand or machine.
Removes oxidation and other stains.
Removes swirl marks.
Cons
Takes a little longer to apply than liquid or spray waxes.
Can stain rubber and non-painted surfaces.
Apply too much and it can be hard to buff off.
3. Soft99 Fusso Coat Dark (Best wax for Protection)
For many black car owners, the Japanese wax Soft99 Fusso Coat is number 1. And this is also one of my favorite waxes.
Its main selling point is its 12 months of durability. That's one of the best in the market. Some people use this as their winter wax. This is because it offers so much protection against weather conditions and road salt. In winter we need to wash our cars quickly, and this wax makes washing faster and easier.
Another huge plus is it has one of the best water-beading effects on the market.
Read my experience applying Fusso Coat here.
Is it as good as a ceramic coating? It's not far off. It has many of the properties of ceramic coatings. But none of the drawbacks. And it's much easier to apply.
This is not my number one wax because some people have difficulty. But if you have a lot of experience detailing cars, you'll love it.
Amazon Link -> Soft99 Fusso Coat Dark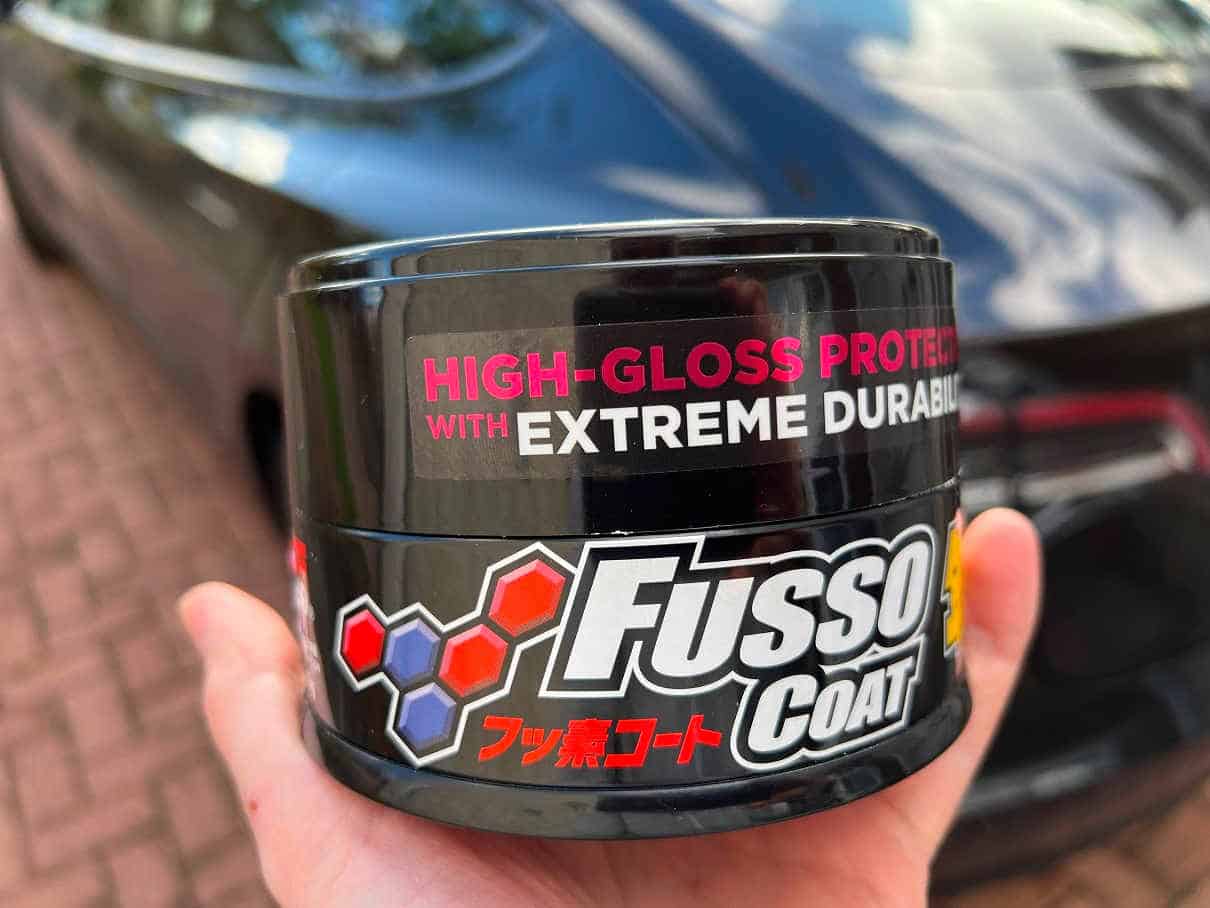 Fusso Coat Pros
Super long-lasting
Awesome water-beading
Stunning deep shine.
Easy to apply and buff off by hand.
No dusting effect.
Comes with a high-quality applicator pad.
Short cure time, immediate buff off.
Small amount of wax goes a long way. This tub will last years.
Reminds you why you love black cars.
Fusso Coat Cons
Costs more than other waxes.
Paste wax takes longer to apply than spray waxes.
Some users report streaking or uneven application (fixable).

4. Chemical Guys Black Car Care Kit (Best Multi-Product Kit)
That shine you can get from a black car is the reason we put ourselves through all the pain of owning a black car. Your car might need some work to get the shine back.
But many people don't use the right products and tools when waxing their cars so they don't get great results. That's why I recommend the Chemical Guys Black Car Care Kit to people.
Here's What's in the Chemical Guys Black Car Care Kit…
Hybrid V7 Optical Select High Suds Car Wash Soap (16 oz) – A superb car shampoo for getting rid of dirt and grime without scratching. pH Balanced. A car washed with a shampoo like this will have fewer scratches due to its lubricity.
Butter Wet Wax (16 oz) – One of the very best car waxes in the world. Super easy to apply carnauba-based wax for a deep wet-look shine that will cause your jaw to drop. Can even protect your car against sun damage.
Black Light Hybrid Radiant Finish (16 oz) – A fully synthetic paint sealant and glaze designed to give long-lasting protection, apply after washing using the supplied applicator pad. It's a gloss enhancer, glaze, and sealant in one. Note that this is not a polish or wax. It's a pre-wax glaze that is applied before waxing to give a much deeper shine. Has a filling effect that hides light swirls and scratches.
Hybrid V7 Optical Select High Gloss Spray Sealant & Quick Detailer (16 oz) – A Quick Detailer spray for removing dust between washes. Also removes bird droppings and adds shine and protection all over.
Hex-Logic Finishing Hand Applicator Pad (TWO PACK), Black (3 x 6 x 1 Inch) – Spread glaze, sealant, or wax without a machine. Fits in small areas like doorjambs, handles, and mirrors.
Monster Edgeless Microfiber Towels (THREE PACK), Black 16″ x 16″ – Premium soft towel for general detailing jobs all over any vehicle. These are a must-have.
Amazon Link -> Chemical Guys Black Car Care Kit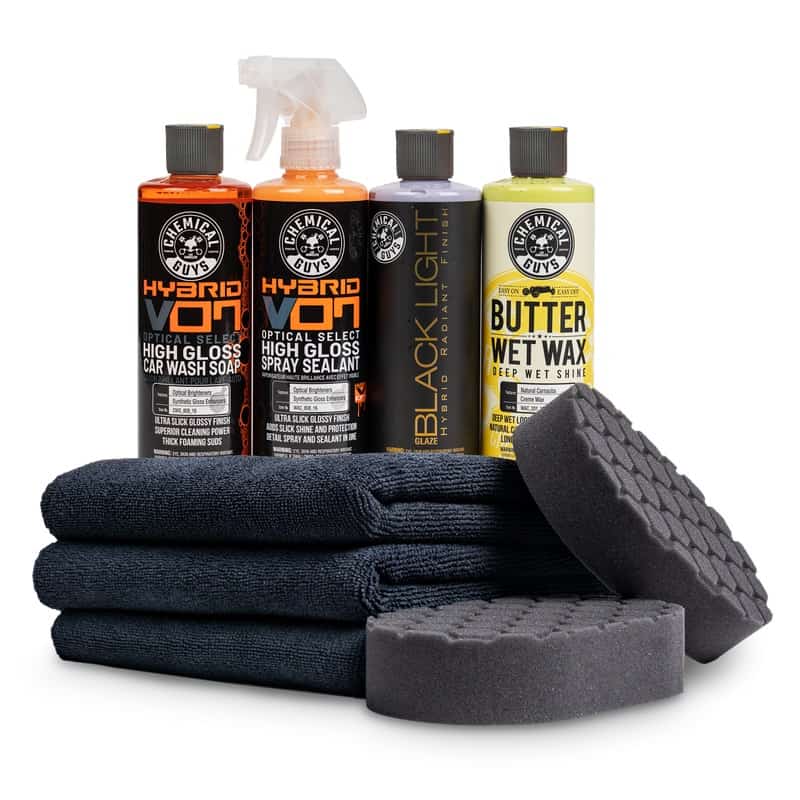 Black Car Care Kit Pros
Very high-quality products in one pack.
Fills in and hides light swirls and scratches.
Doesn't stain plastic like many other waxes once removed on time.
Protects the paint from UV oxidization damage
Incredible reviews on Amazon.
Black Car Care Kit Cons
Takes a lot more time to use all of the products.
5. Meguiars Hybrid Ceramic Liquid Wax (Best Ceramic Wax)
A product that I love is Meguiars Hybrid Ceramic Liquid Wax. It's the best Liquid Ceramic Wax for Black Cars. It contains Sio2 which means it can last a lot longer on your car and survive longer in bad weather.
It's incredibly quick and easy to apply and can even go on plastic bumpers without staining. Some waxes stain plastic but this does not. It protects plastic from sun and weather damage.
Because you don't have to be too careful around plastic and rubber trim, it saves you a lot of time and you can get around your car in a few minutes.
Meguairs is such a trusted brand in auto detailing. And who doesn't want quality products from a brand they can trust?
6. Turtle Wax Graphene Spray Wax (Best Spray Wax)
Turtle Wax Hybrid Solutions Pro Flex Wax, Graphene Spray Wax. is a spray wax that gives a stunning shine to any black vehicle. It gives great results considering its price. Very little buffing is required! It takes minutes to add a great shine when you're in a rush.
This shows what modern auto wax is capable of. You'll instantly notice the added shine and gloss. You can spray it on plastic and glass too.
Graphene is the key ingredient in this wax. It's designed to add protection which is so important for black cars. Black cars show scratches more than any other color and anything we can do to keep this to a minimum is key to making our cars look better and making our lives easier.
The word "FLEX" is also key here. You can apply it to a dry fully prepped car or to a wet car after washing. This wet application method is such a massive time saver. You simply spray it on your wet car after washing and wipe or rinse it off.
It contains polymers which are chemicals that bond to paint. You'll find that your car gets shinier each time as you add layers after each weekly wash.
Pros
Outstanding shine.
Fantastic water beading.
Long-lasting.
Flexible application methods.
Minimal preparation is needed.
Quick and easy to apply.
Can be used on plastic, glass, and wheels as well as paint.
Can be applied on top of other waxes or ceramic coatings
Cons
Doesn't hide swirls and scratches on older black cars (see number 3 below).
Best results require 12 hours to cure.
7. Turtle Wax Hybrid Solutions Ceramic Graphene Paste Wax (Best Graphene Wax)
Turtle Wax slips under the radar for a lot of people because they might mistakenly think it's a cheap brand. But this new product has been getting rave reviews.
Some older Turtle Wax paste wax products could be difficult to apply. If you left them 0n the surface for too long they would take a lot of work to buff off.
But Turtle Wax Hybrid Solutions Ceramic Graphene Paste Wax is sublime. And the water beading is off the charts.
Black Car Waxing Tips and FAQ.
Q. How do you repair a black car for wax?
Wash: Get your car as clean as possible.
Iron Remover: A simple iron remover spray will dissolve iron particles.
Tar Remover: Dissolves tar deposits.
Clay Bar: Deep clean paint but can cause problems.
Compound & Polish: Removes swirls and scratches.
Wax: Adds protection and gloss.
Maintenance: Wash your car without removing wax.
Click here for a detailed breakdown of Preparing a Black Car for Wax or Polish.
Q. Does Car Wax Hide Scratches?
A. Car wax does not hide scratches very well. Use compound or an all-in-one product instead.
Q. How long does car wax last?
A. Car wax will last three months.
Q. Does car wax go bad?
A. Car wax can go bad over time. It will lose its ability to protect paint.
Q. Does car wax remove water spots?
A. No, car wax does not remove water spots. Use compound or an all-in-one product instead.
Q. Does car wax protect paint?
A. Yes, car wax protects paint from sun and rain. It also prevents scratches by making washing easier.
Q. How often should you wax your car?
A. Wax your car every three months to get the maximum amount of protection.
Q. Is there a special wax for black cars?
A. Yes, there are some car waxes on the market that are specially made for black cars. They can contain paint cleansers and fine polishes. They can also contain fillers with a black dye that fills in scratches. Soft99 Fusso Dark mentioned above is made for dark-colored cars.
Q. What's the difference between wax and sealant?
The lines between wax and sealant have blurred over the years. Many waxes, even the ones mentioned above are also sealants. Some don't contain any actual wax at all. This is not a bad thing though as the waxes I recommended are all excellent.
Want to know more? Read my detailed post on how to wax a black car.
Comparison Table
| Product | Gloss (out of 10) | Protection | Durability | Ease of Application | Hours to Apply | Beading | Type | Stains Plastic | Swirl Coverage |
| --- | --- | --- | --- | --- | --- | --- | --- | --- | --- |
| 1. Butter Wet Wax | 10 | 7 | 5 | 9 | 1 | 8 | Liquid | Yes | 5 |
| 2. 3-in-1 Wax | 6 | 8 | 8 | 7 | 3 | 6 | Liquid | Yes | 9 |
| 3. Fusso Coat | 6 | 10 | 10 | 5 | 3 | 10 | Paste | Yes | 6 |
| 4. Black Car Care Kit | 9 | 7 | 6 | 5 | 6 | 7 | Liquid | Yes | 9 |
| 5. Hybrid Ceramic Liquid Wax | 9 | 6 | 3 | 9 | 0.5 | 6 | Liquid | No | 3 |
| 6. Graphene Spray Wax | 7 | 6 | 3 | 10 | 0.25 | 9 | Spray | No | 3 |
| 7. Ceramic Graphene Paste Wax | 8 | 8 | 8 | 6 | 2 | 9 | Paste | Yes | 5 |