7 Amazing Quick Detailers for Black Cars. Best for 2023.
A quick detail spray, also called a quick detailer is one of my favorite car detailing products. They contain super slick ingredients that allow you to clean your car between washes without the use of water. Light dust and dirt are kept away from the paint surface by the liquid so you can safely wipe down your paint.
If you have some light dust on your car the last thing you should do is wipe it down while dry. A quick detail spray is the best solution to this problem. You can use a QD spray for many jobs around your vehicle.
But you also need to be careful, because a quick detailer can cause scratches. Click here to learn more about using a Quick Detailer FAQ
1. Adams Detail Spray Review (Top Choice)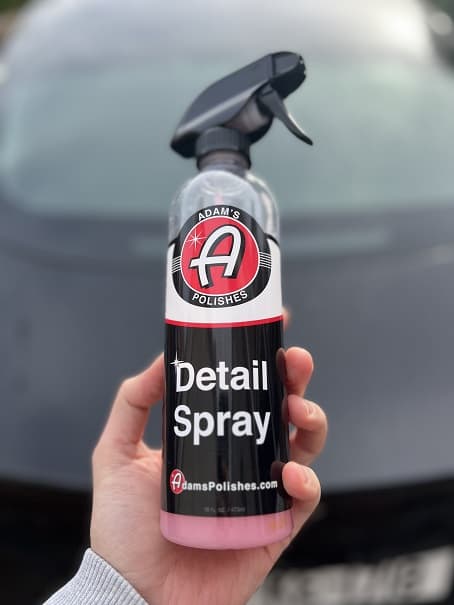 I've kept some Adams Detail Spray in my car for years. It's the best detailer I have used especially for cleaning up fingerprint marks or bird-dropping emergencies.
Adam's claim "Use Adam's Detail Spray on paint, glass, chrome, wheels, grills, and trim to safely clean and shine with just a mist and wipe using a premium Adam's microfiber towel.
It can be used on a wet or dry car. Water will bead instantly when you spray this product on your wet car because of its brilliant hydrophobic properties. Just spray onto a wet car and dry with a microfibre towel. Click here to read more about how to use a quick detailer.
I found Adams Detail Spray to have the best cleaning properties. Once used with a good quality microfibre towel it will keep scratches to a minimum. It's great for fingerprint stains on my black car. It's also great for bird-dropping removal.
There are dozens of detailer sprays on the market. And choosing the right one can be a bit daunting because they all seem to have slightly different uses. Some double as waterless washes and some as drying aid sprays. I will explain what I believe the differences are between these product types below.
Remember that most detail sprays are only for use on light dirt and dust. They create some debate in various chat rooms around the internet. Some people believe that the use of quick detailers to clean a car, especially black cars, is not a good idea because it will cause your paint to scratch and fade over time. They say that even light dirt should be washed from your car using a safe washing method such as the two bucket method. But if you stick to only using them for light dust and dirt and you follow the instructions carefully your paint will be fully protected.
Adam's Detail Spray
Enhance Gloss, Depth, & Shine
Extends The Protection of Waxes & Sealants
Streak-Free & Residue-Free
Acts As A Drying Aid
Pink Color, Strawberry Fragrance
Use on Paint, Glass, Plastic and Wheels
2. Meguiar's Hybrid Ceramic Detailer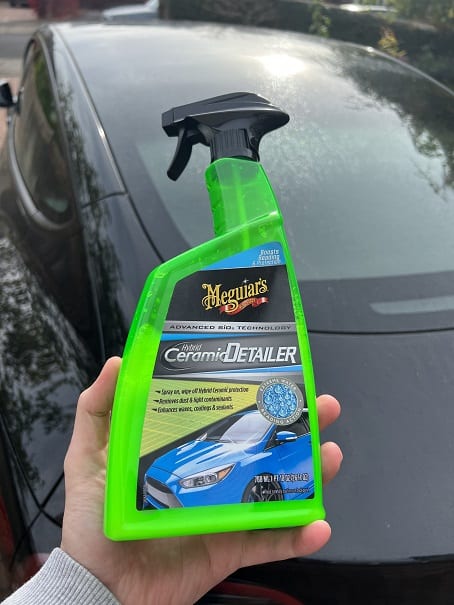 Meguiar's Hybrid Ceramic Detailer is the follow-up to the classic Meguiar's Ultimate Quik Detailer. It was the product that started the whole detail spray sector all other companies want to emulate.
Ease of use is a key feature for any detail spray. Hybrid Ceramic Detailer is probably the easiest. Spray on one or two wipes and it's gone leaving behind plenty of gloss. Good quick detailers just spray on and wipe off with no residue left behind and little need for buffing.
Use a high-quality microfibre towel when using this product. That's the best way to prevent causing swirls and scratches.
Hybrid Ceramic Detailer contains SI02 which helps extend the life of the shine and helps the paint feel slick and smooth to the touch.
Sale
Meguiar's Hybrid Ceramic Detailer
Spray detailer gently removes contaminants like dust, finger prints and bird droppings while adding water beading protection
Contains sophisticated SiO2 Hybrid Ceramic protection
Removes light and fresh contaminants by easily spraying on, wiping off
Enhances waxes, coatings and sealants
Gently remove fresh contaminants between regular washes before they have the chance to bond
3. Sonax Brilliant Shine Detailer Review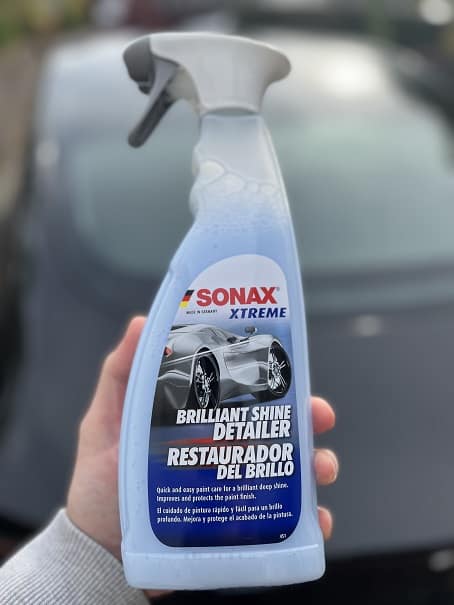 Sonax Brilliant Shine Detailer has become known as BSD is an excellent detail spray. It can be used on slightly dusty cars.
It creates an incredible layer of protection which is visible through the water-beading effect. Water beading is always a good sign because it means your car will be easier to wash as dirty water is repelled away. It will also make your car easier to dry as the water beads are more easily soaked up by your drying towel.
The product is thicker than other detailers. This makes it feel safe for cleaning light dust as the product encapsulates dirt and keeps it away from paint and prevents scratches.
Paint does not feel as slick after application but that's a very minor downside. You won't regret buying it.
4. P&S Beadmaker Review
P&S Beadmaker has become a huge hit with car lovers. Its main selling point is the level of gloss it gives. Apply it like a spray wax just after you wash your car and it will give a massive boost in gloss levels. You will especially notice it on dark-colored cars.
You can apply beadmaker to your car while it's still wet. You then spread it out when drying your car. This can save you a lot of time.
I'm not sure if it can be used as a detail spray but I am putting it on this list because of its popularity. It should be applied to a clean car which is different from some other products on this list.
The liquid is extremely thin and runny which makes it very quick to buff off.
5. Chemical Guys Hybrid V07 Review
This is a hugely popular product that adds sealant and gloss to deliver a super quick shine to any color vehicle. One of the quickest ways to get a quick result is to wash a car and dry it with this product. In a few minutes, you have a car that has the wow factor.
The reviews are amazing for Hybrid V7 on Amazon and it's very popular among professionals also. It also does a good job of hiding swirls marks on older cars but the effect is only temporary. To properly remove swirls and scratches you might need to use compound and polish. Please read my blog post on the subject.
6. Wolfgang Instant Detail Spritz Review
Wolfgang Instant Detail Spritz is another superb product from Wolfgang. These products are very black car-friendly because they leave no residue behind. They cost a little more but its worth it in my opinion because of the time it can save you. The Wolfgang Paint Sealant is quickly becoming my secret weapon for black paint. After you polish your car you can apply the sealant and then top up the shine daily or weekly with the detailer.
You can buy Wolfgang Instant Detail Spritz and Wolfgang Paint Sealant together on Amazon and get much better value for money. You will not regret your purchase.
7. Chemical Guys HydroSpeed Ceramic Quick Detailer Review
Another Chemical Guys product is on the list. Chemical Guys make at least 10 detail sprays. I haven't tried them all but HydroSpeed seems to be a good one. It creates a nice slick finish which is a good sign. The paint feels really smooth.
After applying Chemical Guys HydroSpeed Ceramic Quick Detailer water beading is also evident so it's offering some good protection. So this is a good quick detailer to apply all over your car after you wash it. It requires very little buffing. Although I didn't think the car looked any glossier after applying it.might need to use more than one microfiber towel.
Comparison Chart
| Product | Cleaning Power | Gloss | Ease of Application | Protection | Water Beading | Stains Plastic | Prevents swirls | Durability |
| --- | --- | --- | --- | --- | --- | --- | --- | --- |
| 1. Adams Detail Spray Review (Top Choice) | 10 | 8 | 9 | 7 | 9 | No | 10 | 7 |
| 2. Meguiar's Hybrid Ceramic | 8 | 8 | 10 | 7 | 6 | No | 9 | 7 |
| 3. Sonax Brilliant Shine Detailer | 9 | 7 | 7 | 10 | 10 | No | 9 | 7 |
| 4. P&S Beadmaker | 5 | 10 | 8 | 5 | 7 | No | 8 | 7 |
| 5. Chemical Guys Hybrid V7 | 8 | 8 | 8 | 6 | 7 | No | 8 | 7 |
| 6. Wolfgang Instant Detail Spritz | 8 | 8 | 8 | 6 | 7 | No | 8 | 8 |
| 7. Chemical Guys HydroSpeed Ceramic Quick Detailer | 8 | 9 | 8 | 7 | 8 | No | 8 | 8 |
Conclusion
A quick detailer has a million uses. Click here to see a list.
My tip here is to buy in bulk if the option is available. These products are expensive if you use them regularly so have a look around to see if you can get a large container of your favorite product and top up your bottle.
If you want to keep your car looking good simply bet a detail spray and some good quality microfibre towels. Use it to keep dust and bird droppings away from your paint. Use it to give your shine a quick boost after washing. Don't be without it.