7 Best Car Soaps for Black Cars 2023
We all love our black cars but we know they need extra care. A good car wash soap should soften, lubricate and lift dirt away so you don't have to scrub it. Putting too much pressure on your paint when washing will cause it to lose its shine very quickly. Car shampoo quality is a key factor in car detailing and preserving your shine.
With the right shampoo (and the right washing techniques) you can keep the shine on your car much longer and protect its resale value. A pressure washer can also make your life much easier and protect your car even more.
The technique you use to wash your car is very important. In fact is probably more important than the type of car soap you buy. Read more -> How to Wash a Black Car Without Scratching it.
1. Adams Mega Foam (Best Soap for Black Cars)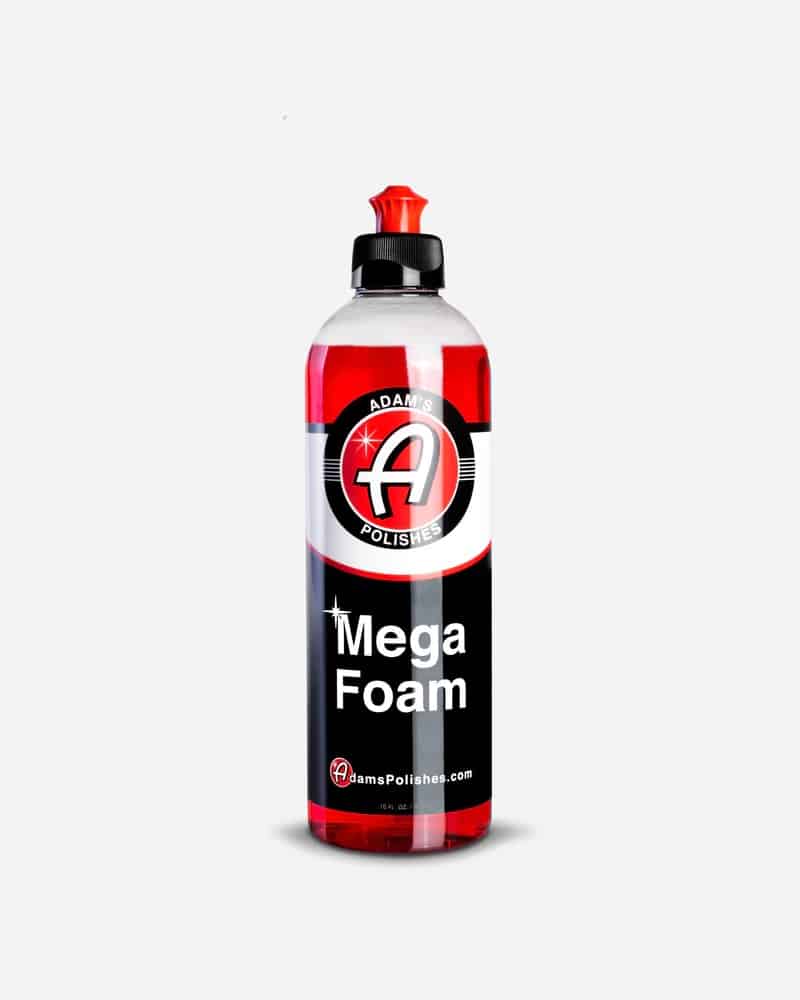 Adam's Mega Foam Pros
Super thick foam.
Perfect for the two-bucket method.
Smells fantastic.
Rinses off easily.
Dissolves grease and dirt.
Prevents scratches.
Super concentrated.
Lasts a long time.
No residue is left behind.
Protects wax and sealant.
Adam's Mega Foam is everything a good soap needs to be. It's perfect for the two-bucket car wash method because you can feel the slickness on your hands. Your microfibre wash mitt will collect thick suds that will lift dirt and protect your black paint. And it rinses off very easily when you are done.
Do you have white residue on your black car? It could be because you used the wrong type of car soap. Adams Mega Foam creates this super thick foam that's perfect for black cars. You will have fewer washing-inflicted swirls and scratches due to the slickness and protection this shampoo offers.
2. meguiar's Gold Class Car Wash Review (Best Value)
Meguiar's Gold Class, Pros
Amazing reviews on Amazon.
Very slick which helps prevent scratches.
Great value for money.
Good level of suds.
Highly concentrated.
Protects existing wax or sealant.
It only contains soap, no wax or sealant.
Biodegradable.
Ph Balanced.
Meguiar's Gold Class Car Wash might look like it's been around for 50 years but Meguiar's is always improving and perfecting it. It's a totally modern product and offers superb value for money.
Meguiar's Gold Class Car Wash feels silky smooth on your paint. This is the conditioner at work. Its job is to allow dirt to slide off of your car paint. This slickness is the reason for its number 1 rating.
3. Chemical Guys Honeydew Snow Foam
Honeydew Snow Foam Pros
High level of slickness.
ph balanced.
Contains Gloss Enhancer for a deep shine.
Highest level of suds.
Protects existing wax and sealant.
Clearcoat safe.
Great Smell.
Great Value.
Everybody seems to love Chemical Guys Honeydew Snow Foam. As the name suggests this product is designed to deliver extra foam when used in a foam cannon. It also produces incredibly thick foam in the bucket. And it smells really nice.
Chemical Guys call this a maintenance shampoo. The product doesn't contain any wax or sealant so its purpose is to protect any existing products. And it does that really well. Water was still beading on my car after using it which means my existing wax was not removed.
Use this with a foam cannon to produce incredible results. It probably works out cheaper over time because a small amount is needed to generate thick suds that penetrate dirt. This makes cleaning a dirty car so much easier.
4. Turtle Wax Max Power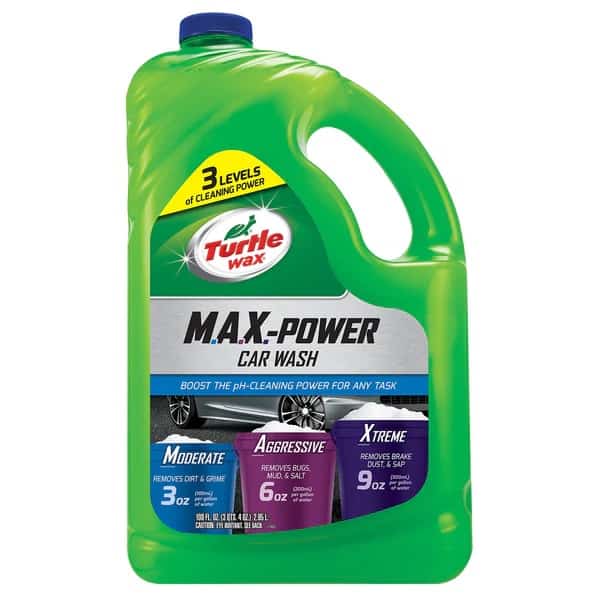 Turtle Wax Max Power Pros
Great for dirty vehicles
Three levels of cleaning
Dissolves dirt and grease
Protects against scratches
Concentrated
Not as sudsy as others
Turtle Wax Max Power is the best shampoo for very dirty black cars. The more product you add to your wash the more cleaning power it has.
There is a very useful guide on the back of the bottle that can be used to help you measure the amount of product you need to use in your bucket or in your foam cannon.
It's great on trucks on other large vehicles. Especially if you have a pressure washer. Just foam your can and let it sit for a few minutes. Then power-wash off. Most of the heavy dirt will be gone. If you still have some dirt you can use the two-bucket method to finish the job.
5. Chemical Guys Mr. Pink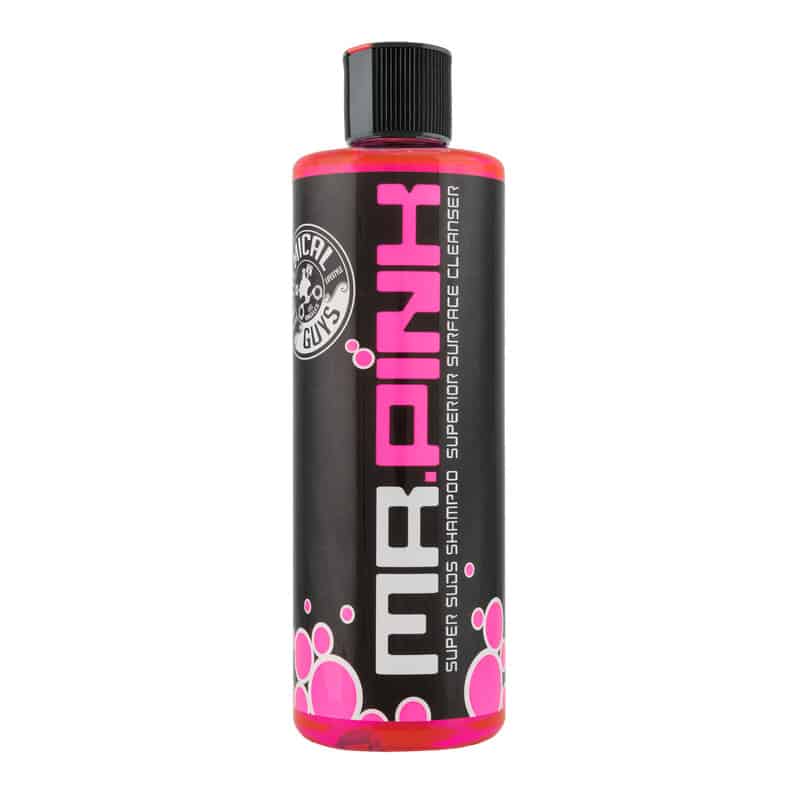 Mr. Pink Pros
Best for removing dirt when used with foam cannon.
Protects existing wax or sealant.
Biodegradable.
Ph Balanced.
High level of concentration.
Very sudsy but not as sudsy as Honeydue.
Doesn't add wax or sealant.
Enthusiasts love Chemical Guys, Mr. Pink. So many people have this product as their favorite that I had to include it here. The foam sticks really well to my car and this will obviously help soak into the dirt and soften it before blasting it with the pressure washer.
The pH-balanced formula is safe for wax and sealant coats as well as protecting your car's clear coat. Chemical Guys do not claim that Mr. Pink contains wax or sealant of its own.
It claims to lift off dirt through its amazing foaming and it will protect your car with its slickness as if you were using a mitt if that's what's needed.
6. CARPRO Reset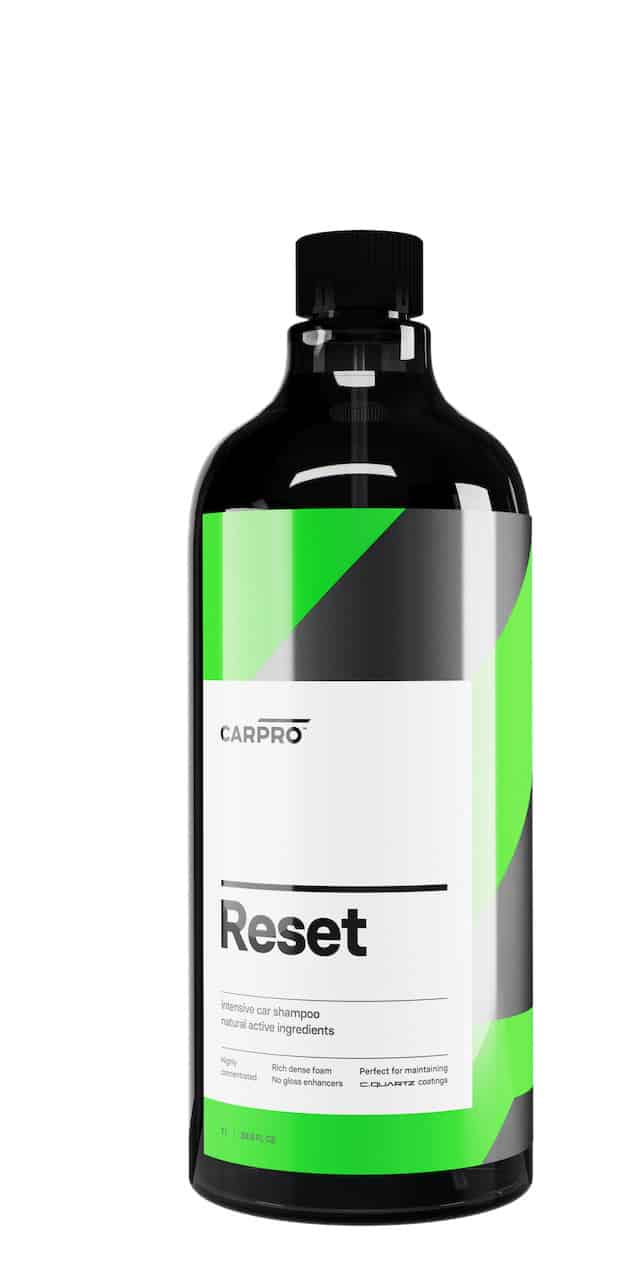 Carpro Reset Pros
500:1 dilution ratio with water
Made to protect Ceramic Coatings
ph Neutral
Very long-lasting
Maximum protection of coatings
Biodegradable
Carpro Reset is a fan-favorite car soap. It's designed for use with the latest ceramic coating technology. The high level of concentration means that only a tiny amount is used in your wash bucket. It still produces good foam but not as good as my other recommended products.
It rinses off easily which is super important for black cars. Many black car lovers won't buy anything else.
7. GYEON Quartz Q²M Bathe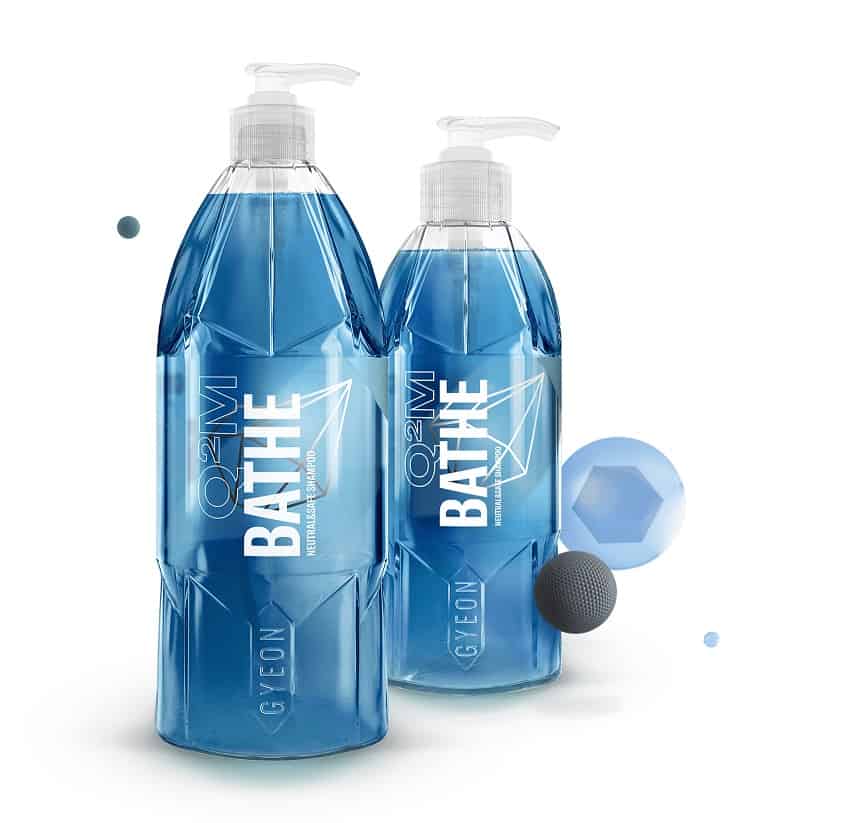 Gyeon Bathe Pros
Latest Tech
Super slick feel
Protects ceramic coatings
Very easy to rinse
Great foam
Excellent lubrication
Gyeon Quarts Bathe is an ultra-slick and high-end car shampoo designed with the latest chemical technology from the great South Korean brand.
I have used their coating products a few times and this shampoo is designed to go hand in hand with it
What should a great car soap do?
Great foaming action in the bucket
Softens and lifts dirt easily.
Slickness to prevent dirt from scratching the paint.
Lubricates the surface.
Leaves some gloss.
Water beading.
Highly concentrated.
Rinses off easily.
Biodegradable.
Great foaming action in foam cannon
Doesn't leave a residue.
Doesn't leave water spots.
Doesn't leave streaks.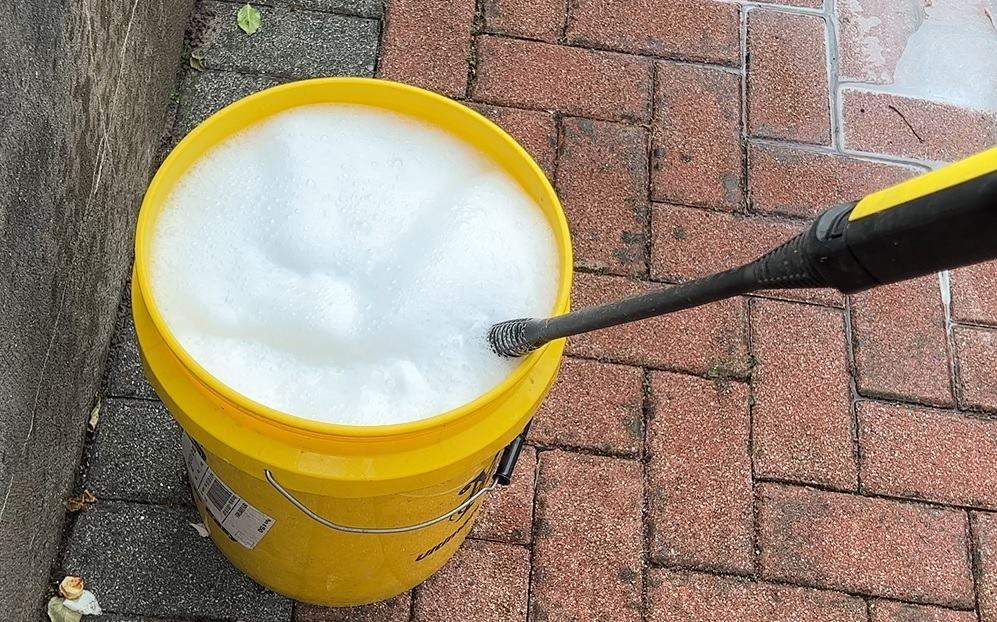 Is ph-level important?
The instructions on many waxes say you should use a ph-neutral car shampoo. And almost all good quality car soaps are ph-neutral so you won't have a problem. But I use an alkaline shampoo as my pre-wash foam. And guess what, it doesn't remove my wax. A car soap should be non-caustic to protect wax. Check out some research here from Bilt Hamber Labs.
Black Car Soap Comparison Table
| | | | | | |
| --- | --- | --- | --- | --- | --- |
| | Cleaning Power | Foam in Cannon | Foam in Bucket | Slickness | Easy to rinse |
| 1. ADAMS Mega Foam | 10 | 10 | 10 | 10 | 9 |
| 2. MEGUIAR'S Gold Class Car Wash | 10 | 6 | 6 | 9 | 9 |
| 3. CHEMICAL GUYS Honeydew Snow Foam | 8 | 9 | 9 | 9 | 9 |
| 4. TURTLE WAX Max Power | 9 | 5 | 6 | 6 | 7 |
| 5. CHEMICAL GUYS Mr. Pink | 8 | 8 | 9 | 9 | 7 |
| 6. CARPRO Reset | 10 | 7 | 8 | 8 | 7 |
| 7. GYEON quartz Q²M Bathe | 9 | 8 | 8 | 10 | 7 |
My score out of 10. 10 being best.
Conclusion
Don't be tempted to use dish soap or some other ultra-cheap car soap to wash a black car. You will end up with swirls and scratches as well as faded paint. Quality shampoo from a well-respected brand is a must-have product for all black car owners.
Next Article -> Common Black Car Washing Mistakes