Best APC for Car Detailing. (Interior and Exterior)
I've been using detailing products for years and an All-Purpose Cleaner is key to getting your car interior clean quickly and easily. The best APC for me has recently changed. This new product will save you time and money and give you perfect results without damaging your car's interior or exterior.
1. Chemical Guys Nonsense Colorless and Odorless All Surface Cleaner Review
Best All Purpose Cleaner for Car Interior
Chemical Guys Nonsense
is the one to get if you don't like the way APCs generally smell. It's unique in this regard as far as I know. So, due to its nice smell and excellent cleaning ability,
this is clearly the best All-Purpose Cleaner for Car Interiors.
Many professional auto detailers love to use this inside the vehicle and another cheaper products outside the car and in the engine bay. It doesn't produce much foam. But this doesn't prevent it from doing a fantastic job. It can be diluted 20 to 1 for interior cleaning and 10 to 1 for exterior making it good value for money. As with all of these products. You save money by getting the bigger 1 gallon / 5 liter container and your own spray bottle. Chemical Guys don't say if this product is biodegradable which means it's probably not. There are many positive reviews on Amazon. Lots of people have successfully removed stubborn stains from carpets and seats.
Click here to read the reviews on Amazon of Chemical Guys Nonsense.
2. Bilt Hamber Surfex HD Review
Highest Concentration APC
Bilt Hamber Surfex HD
is a solvent free alkaline APC is one of the most famous in the detailing world. A detailed test by the Forensic Detailing Channel rated it as the number one APC for dissolving dirt and grease on contact. In the test they diluted the product to an incredible 95% water and still got excellent results.
Surfex HD should be diluted up to 200 to 1 with water which means it's the most highly concentrated product here. That's 95.5% water!
It's recommended for use on dark colored cars because it leaves behind so little residue. This is because it's a water soluble product. The product inhibits rust and is fully biodegradable. It also leaves very little residue behind. It can be used in a foam cannon as a foam pre-wash although it won't generate that much foam but it doesn't need to. It will remove a lot of dirt from your paint before you attack it with your
wash mitts
. This will greatly reduce the risk of scratching during your wash but it might cause your sealant, wax or ceramic coating to degrade. Bilt Hamber Surfex HD is also fantastic value for money and worth double the price. Very Highly Recommended! Its not always available on Amazon USA. However its widely available in the UK and EU. Amazon :
Bilt Hamber Surfex HD
Bilt Hamber USA Website :
Bilt Hamber Surfex HD
3. Meguiars APC Review
Meguiar's D10101 Detailer All Purpose Cleaner
is one of the great names in car detailing. It's very highly rated on Amazon. Most people seem to complain about the strong smell but it's not that bad in my opinion. Others say they love the smell. I have used it to clean both inside and outside my vehicle. It does an excellent job on tires. The foam quickly turns brown when you scrub it. Apply it a second time to get everything off. Inside the vehicle, it easily removes fingerprints and seat stains. It's great on rubber car mats too. It can be diluted up to 10 to 1 with water to get a medium strength cleaner. It contains fabric softeners and optical brighteners and seems to be geared towards use inside the car only. But it can be used to clean wheels too. There are plenty of five-star reviews on Amazon. It's also biodegradable because it's a water-based product and not solvent-based.
4. Car Guys Super Cleaner
Car Guys Super Cleaner
can cost more than some APC but is it worth the price? Car Guys don't say that you should dilute the product so that makes it far more expensive.
Car Guys Super Cleaner has a high number of positive reviews on Amazon.
However there are some reviewers who claim that it damaged their cloth seats. Here is what Car Guys say… SUPER CLEAN ANY SURFACE! – This multi-surface product works on absolutely every interior or exterior surface except glass and delicate instrument panel screens! That means this ONE PRODUCT will clean upholstery, fabric, canvas, leather, vinyl, plastic, rubber, bird poop, grease, tree sap, metals, wood trim and so much more! This is the most versatile multi-purpose cleaner on the market!
5. Carpro Multi X Review
Carpro Multi X
produces a nice foam when cleaning your interior or exterior. APCs are not known for their foaming ability so this is a nice bonus to me. It has a recommended ratio is 20 to 1 for most cases such as tires/wheels and wheel wells. You can go stronger if you are doing a really bad engine bay. But for interior seats and trim stick to 10 to 1. Users have not reported any staining or discoloration.
It can be diluted with water at a 20:1 ratio when cleaning a car interior.
If you want to rinse a whole car with this you shouldn't do it in direct sun or let it dry on the paint because there is always a possibility of streaking or staining. Here is what Carpro say about the product… Multi X comes in a concentrated formula capable of removing all manner of filth and unwanted soiling! We recommend diluting 1:20 for general cleaning or 1:100 for high pressure cleaning applications. Please note we HIGHLY recommend that you test on an inconspicuous area before use! Use on unknown materials is only at your own risk!
6. Optimum Power Clean review.
Optimum No Rinse (
ONR
) is an excellent product so it makes sense that a lot of their other products must also be good.
Optimum Power Clean
has a great reputation as a bug remover and is loved by white car owners. Some owners say if can leave behind residue on glass and dark-colored cars. But it's excellent for general stain removal on seats and carpet and also for wheels. The good news is that it's biodegradable and solvent-free so it's less likely to cause staining and discoloration to fabrics and plastic. It can be diluted with water. Some Amazon reviewers have used it to successfully remove water spots.
7. Super Clean Review
OK, so I haven't used this myself but a number of professional auto detailers use it. Super Clean is a secret weapon of many the pros. It's popular not just because it's such good value, but because it just works. Check out reviews of
Super Clean on Amazon.
What does an All-Purpose Cleaner do?
An APC is an extremely useful tool for the weekend warrior and a must have product of a professional detailer. Use it both inside and outside the car to dissolve dirt quickly and to minimize the need to use elbow grease which can cause scratching and marring. Of course you can use it all over your home too so it won't be wasted. Most pro detailers say that an All-Purpose Cleaner should really be called a Multi-Purpose Cleaner. That's because you can't do absolutely everything with it. More on that later. Also, you don't need to be a professional detailer to use an APC. An APC is usually concentrated (though not always) so you need to dilute it in water. Bilt Hamber Surfex HD can be diluted 200 to 1. And another thing, none of them smell great. Well there is one product that smells Okay. It's the Chemical Guys product mentioned below. All the APCs in this list have the following characteristics
No ammonia
No bleach.
Non acidic.
Alkaline.
This why they are so good at dissolving grease and dirt and don't whiten carpets. Although it's always best to test an APC in a small area before you apply it to they whole area. Acidic products are usually for cleaning wheels only. Sometimes acidic cleaners are used for removing water spots but they can stain plastic and rubber.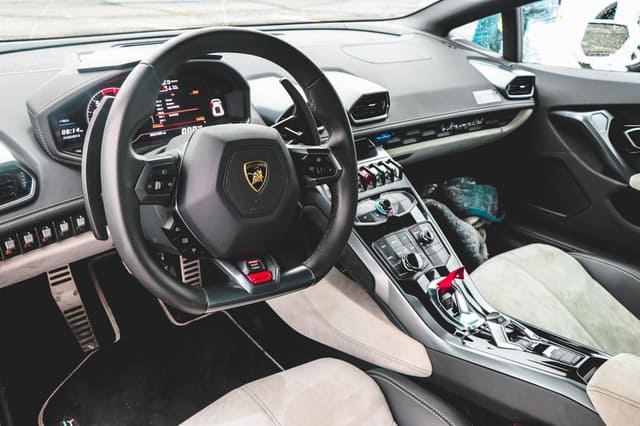 APC Things to Remember
You should wear gloves.
Don't get it in your eyes.
Dilute with water (read the instructions).
Rinse away with cold water.
Don't use an acidic APC on cars.
Test on inconspicuous area before each use.
Apply in the shade and when paint is cool to the touch.
Don't let it dry.
Don't use on screens inside your car.
Don't use on glass as they can leave a residue. Use a dedicated glass cleaner.
READ MORE :Best Detailing Kits on Amazon.
When to use an All-Purpose Cleaner on the OUTSIDE of your car.
I used to think and APC was just for the inside of my vehicle. But then I discovered all of these other uses. Only use an APC on your car when the surface is cool to the touch and try not to let it dry…
Tires. I use an APC to clean tires almost every time I wash. It seems to remove a lot of the brownness that you often find on neglected rubber. A soft scrubbing brush helps too. It quickly makes the car look good and helps any tire dressing you use to bond.
Wheel wells. These can be tricky to reach and clean properly. Spray some diluted APC and let it dwell for a few minutes before washing it off with a pressure washer for surprisingly good results. This can save you time as you may not need to reach in and clean the area by hand.
Alloy wheels. Some folks like to use a wheel cleaner / fallout remover spray on their alloy wheels every time they wash like the famous Carpro Iron X but I don't think you need to. I tend to use the APC most of the time and use the wheel cleaner occasionally. Ill spray some on my wheels and wheel wells and blast it off with the pressure washer after a few minutes.
Bug removal. Spray some APC solution on to the front of your car and most of those nasty bugs will disappear without touching. Trying to scrub off bug guts with a sponge will result in paint marring. An APC is a lot cheaper than using a specialist bug spray.
Exhaust tips. A lot of dirt can be removed from your exhaust tips. Use some very fine steel wool and a metal polish if it's very dirty.
Water spot remover. An APC can remove some water spots. Although they are not always successful.
Around badges. The raised lettering and badges in cars can be tricky to clean. Spray some APC and let it work it's way in. Then gently agitate with a small detailers brush. And rise away.
To remove old wax and sealant. If you are planning on applying a new wax then you might get a better bond of the old wax is removed and and APC can help in this situation. Spray all over your car and rinse after a few minutes. Then wash as normal with the two bucket method.
Engine Bay Cleaning. An APC is the best way to clean an engine bay. It will cut through grease much better than soap.
Clean polishing pads. I've used it to clean my polishing pads after compounding and polishing my car.
Convertible roof cleaning. Soft tops can be cleaned with an APC.
Remove sunscreen stains. Can help to dissolve grease hand prints left by sunscreen.
Remove wax or polish from plastic bumpers. You can also use a pencil eraser for this.
When to use an APC INSIDE the car.
It's great inside the car once you dilute it properly.
Rubber car mats. APCs are perfect for cleaning these. Take the mat out and work on it on the ground so you can rinse it with the hose.
Interior fabric. Cleaning carpet is another obvious use for an APC. It's the best way I know of to get the stains out of an old carpet or cloth floor matts. Use a soft brush and microfibre towels.
Dashboard stains can be removed. Especially those nasty stains you see on a steering wheel. But note that some APCs are not recommended for use on the dashboard.
Rubber door seals can be safely cleaned with a quick wipe with at APC.
Plastic trim around door ledges can get stained in anyone's car. An APC is the solution.
Steering wheels can get filthy. Makeup can just dissolve away without much elbow grease.
Is an all purpose cleaner safe on car paint?
It's
not
a good idea to do your bucket wash using an APC. This is because the APC does not contain anything that will prevent your paint from getting scratched. Diluted APC itself is safe for car paint. In fact it can remove a lot of dirt from your car as part of your touch-less pre-wash. There is a risk of residue being left behind especially if the products are left to dry on your paint or glass. This would be especially noticeable on dark colored cars. Of the products mentioned below I would recommend Bilt Hamber Surfex HD for use on dark cars. Make sure you use the correct dilution rate to avoid problems. Another good thing about Surfex HD is that its water soluble so it will be easier to remove any staining should you have issues applying it. In most cases I would recommend using a
foam cannon
soap wash instead of an APC on car paint. Only use an APC if you have a lot of bonded contamination. Spray some APC solution on bugs and heavy dirt and allow to soak before you rinse it off quickly with your pressure washer. Of course you should only ever use something like Meguiars Gold Class in your bucket and mitt wash because it will offer so much more protection against scratching and marring. I would always use the product diluted and never neat as there is a risk that this could cause staining on rubber or plastic.
When NOT to use an APC.
Remember that an APC is a heavy-duty stain and dirt remover. So you should only use it for that purpose. I rarely clean a dashboard with it as it's never dirty enough. I would use a slightly damp cloth to remove light dust from my dashboard and maybe give it a shine using something like Adams Interior Detailer when I want it to look perfect and smell good too. I would only use an APC on a dashboard that's very dirty and stained and has rarely been cleaned. The little display screens in modern cars can get stained by an APC so it's best not to use it here. Don't clean the glass inside your car with an APC as it can leave a residue behind. Use a dedicated glass cleaner like Invisible Glass.
APC Application Methods.
My favorite way is with a pump action sprayer like
The Rag Company – iK Foam Pro 2 Pump Sprayer
. It's especially great for doing wheel arches. Note that there are two versions of the sprayer. One of them is designed to produce foam – the other is not. Make sure you get that one that does NOT produce foam for best results with your APC. Another option is to use a trigger sprayer. This is what most people use. Like these
Plastic Spray Bottle 24oz 3-Pack with Clear Finish
on Amazon. It can be a little exhausting on your wrists especially when doing wheel arches or carpets or seats. Get yourself a detailing brush set. You're not a detailer without these. Soft boars hair is the most popular.
ONEST 11 Pieces Auto Detailing Brush Set on Amazon
was recommended to me by another detailer. You can use them inside and outside your car and around badges.
What's the difference between Meguiars super degreaser and Meguiars all purpose cleaner?
Super degreaser is stronger and is not recommended for use inside the car. Super degreaser is great on tires and wheel wells.
Can an APC be used on leather?
Yes, most APCs can be used on leather once diluted to the correct level. Check the label or the website of the product.
The correct dilution ratio is important.
Use a soft brush like this
Chemical Guys Acc_S95 1 Pack Long Bristle Horse Hair Leather Cleaning Brush
from chemical guys. Wipe off any residue with microfibre towels. APCs will only remove dirt and won't leave a shine behind. They also won't make leather slippery. You should use a leather conditioner after using an APC. Most APC manufacturers say that using their product on leather seats is fine. But
I prefer to use a dedicated leather cleaner and conditioner like the ones from Chemical Guys or Adams.
Is it ok to use APC on carpet?
Yes, most APC can turn yellow over time if not fully rinsed out of caret. It can take a long time for this to happen. So make sure you use the correct ratio and rinse it out after application.
The use of a wet vacuum is recommended
by some manufacturers such as Bilt Hamber. The wet vac is used to remove the residue after you have applied Surfec HD.